*REVIEW* KW Coilovers- Variant 3 (V3) for F10 5 series
06-10-2011, 02:33 PM
---
I finally came around and set some time aside, to deliver my personal review for the KW Coilovers- Variant 3 for our BMW 5 series F10.
Initially, my interest in the KW?s was only to attain the height drop that H&R springs couldn't deliver for my F10. However, I quickly found out that KWs are so much more than just a solution for a lower stance on your vehicle. I drove my F10 long enough on stock suspension, too long on H&R sport springs, and gave myself enough time to experience the KWs to be able to share my first impressions and lasting impressions on them.
Stock F10 Suspension
( Non DHP/Adaptive drive)
Most, if not all of us know what the stock suspension on the F10 feels like, unless you modified your suspension on day 1. The feeling of the stock suspension on the F10 is like a floaty boat ride which makes you feel alienated from the road. Tight cornering on my F10 with stock suspension was not pleasant, as the body roll was enough to throw my wife and I from side to side like we were doing the chicken dance. The floatiness and loose feel of the car, combined with the altitude at which my F10 stood, consequently led me to swap out stock springs for H&R sport springs in hope of improved ride quality.
H&R Springs
H&R sport springs definitely helped make the F10 feel more planted and cosmetically improved the F10?s look by lowering it a little over an inch overall. However, I was not completely satisfied with the springs for although the floatiness improved, it still remained, especially on the freeway and at higher speeds. The ride on the H&R springs was still jumpy and took a few seconds to settle back down after going through a dip . Cornering on H&R springs was definitely better than stock, although body roll still lingered enough to be very noticeable and uncomfortable when spirited driving took place. The height drop was acceptable from the H&Rs considering the price, and the ride was ok aside from the floatiness at high speeds and the lag in stabilization after a significant dip. H&Rs still left me expecting more from my BMW F10, which led me to decide on making the best investment I?ve made on my F10 as of yet. KW Coilovers.
KW Coilovers V3
The day I drove back to San Diego from Trinity Autosport after installing the KW V3?s on my F10, I simply felt like I was driving a completely different vehicle (from a ride quality stand point). My car felt planted to the ground and feedback from the road was drastically improved. Taking turns at 80mph felt like turning at 25mph, total comfortably, completely stable, and connected to the road. Going over dips where the springs compress and decompress, the car stabilized itself in a matter of milliseconds compared to H&R springs and stock where you are kept floating up and down until stable. Nose diving when braking quickly and hard was gone, the car comes to complete clean stops without jerking you or your passengers forward.
I would mention any downsides to the KWs, but IMO, there aren?t any.
I am currently dialed in at factory out of the box settings and have not played with the dampening or compression. I am very satisfied with the feel of the car and enjoy every moment driving the F10. Everything I tried to improve with H&R springs and couldn?t attain has now been completed with KW coilovers, which are definitely worth every penny.
KW coilovers are not for the faint of heart and if you don?t really care about performance, stability and complete versatility of the ride and height of your vehicle, than I would say springs or stock suspension would do you just fine.
However, If your?e looking for an aggressive suspension that TRULY performs, drastically improves the quality of your ride, totally enhances the look of your F10, and can be adjusted to the height of your liking, then KW coilovers were made just for you.
Here's a video I made showing off a few F10's on KW V3's
[U2B]http://www.youtube.com/watch?v=602sccWcWzc[/U2B]
Stock Suspension Pictures
H&R Springs Pictures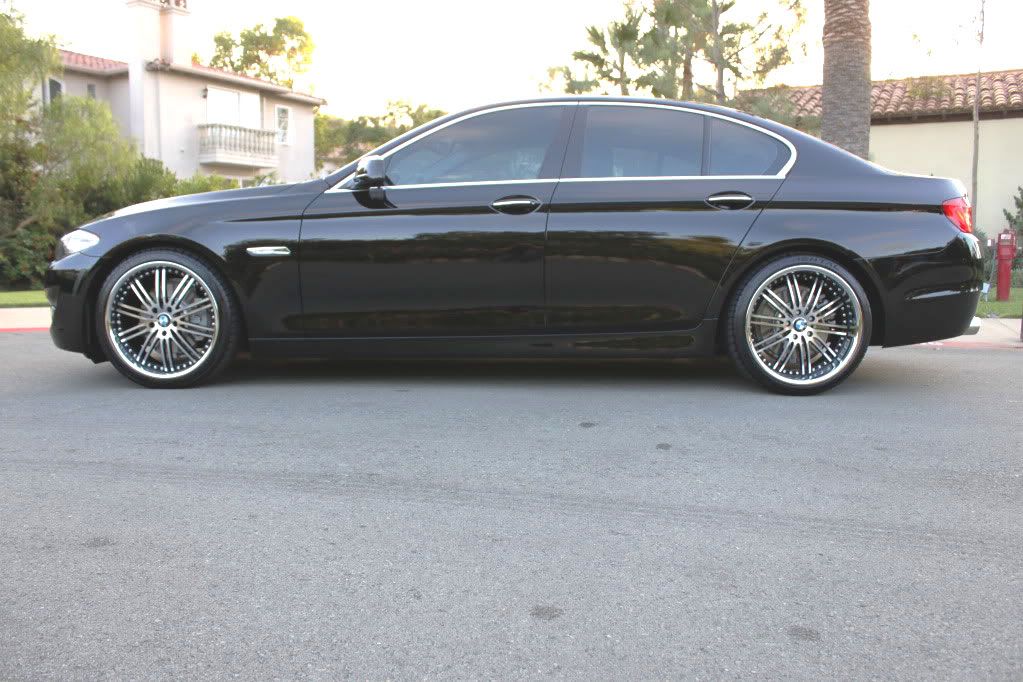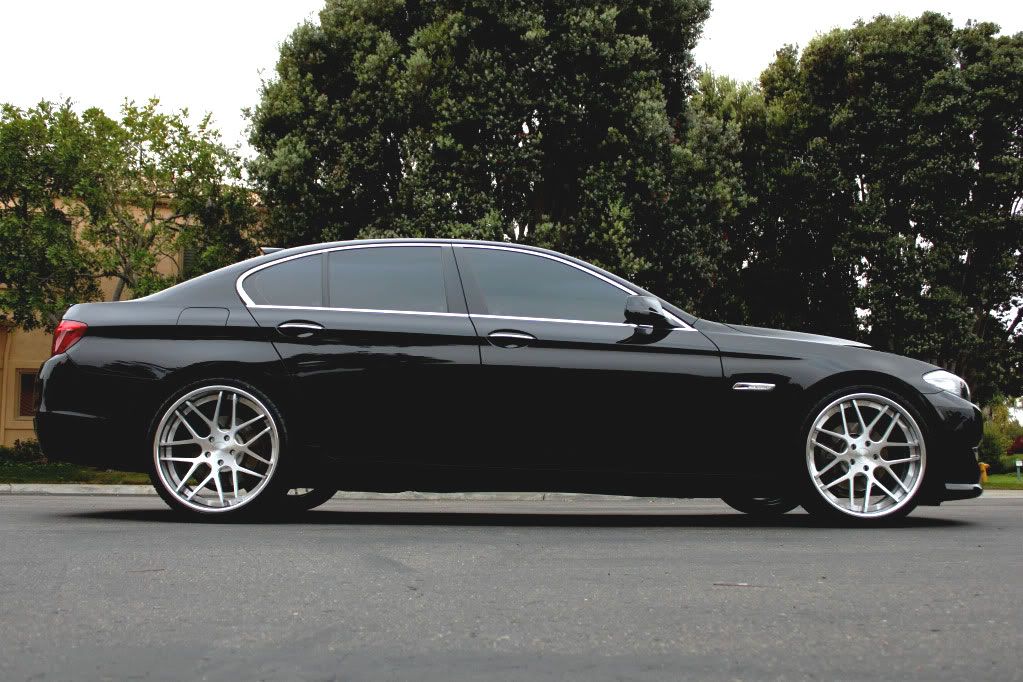 KW Coilovers V3 Install @ Trinity Autosport
(Thanks Joe and Nerwyll
)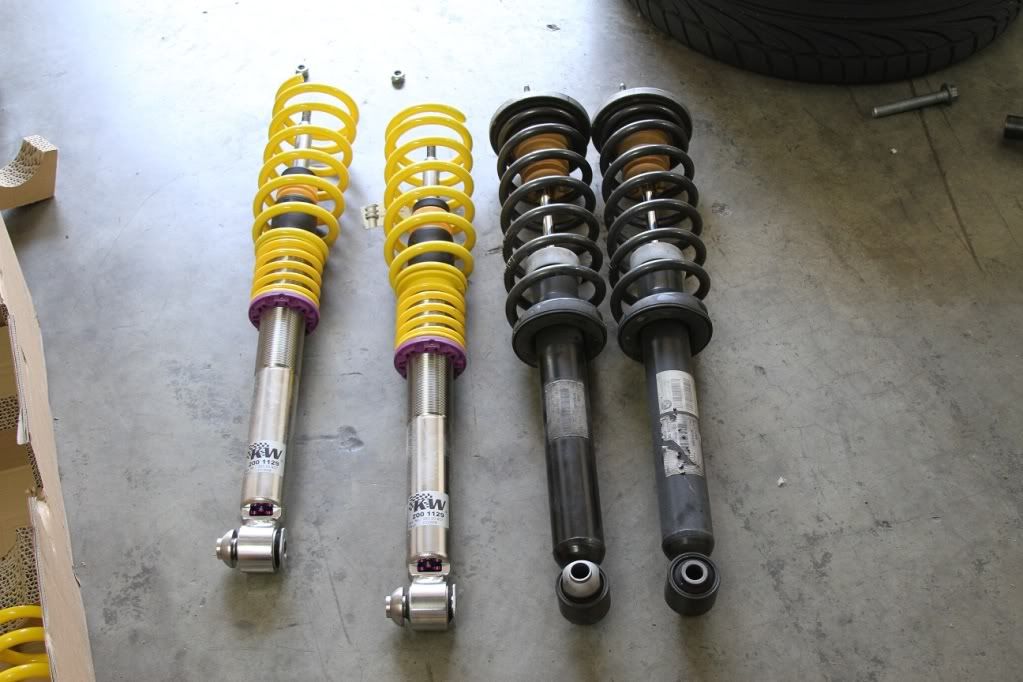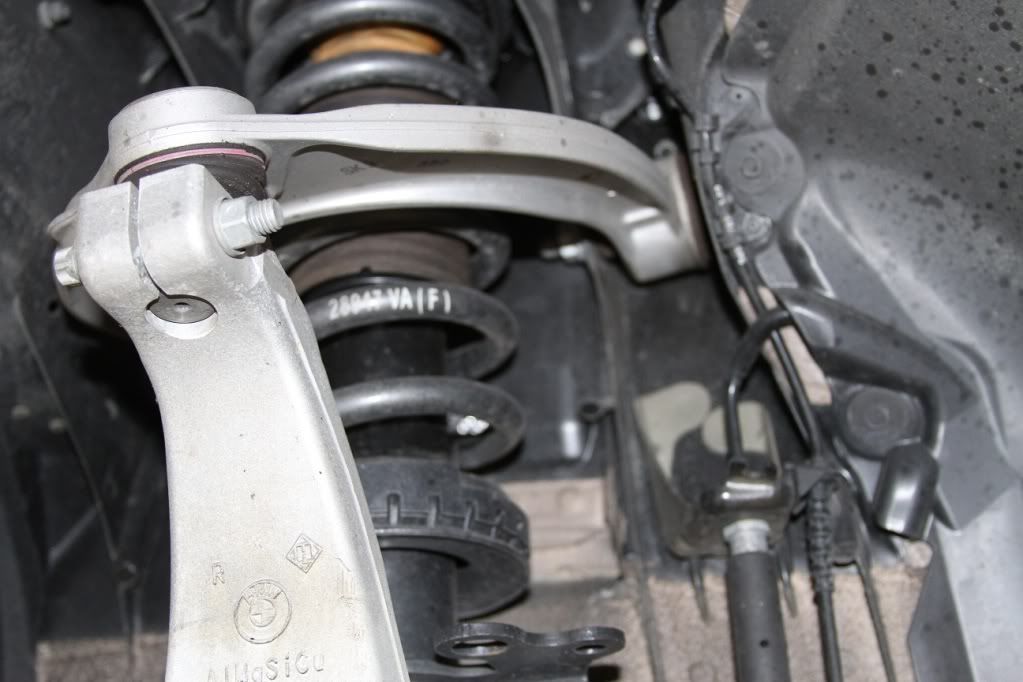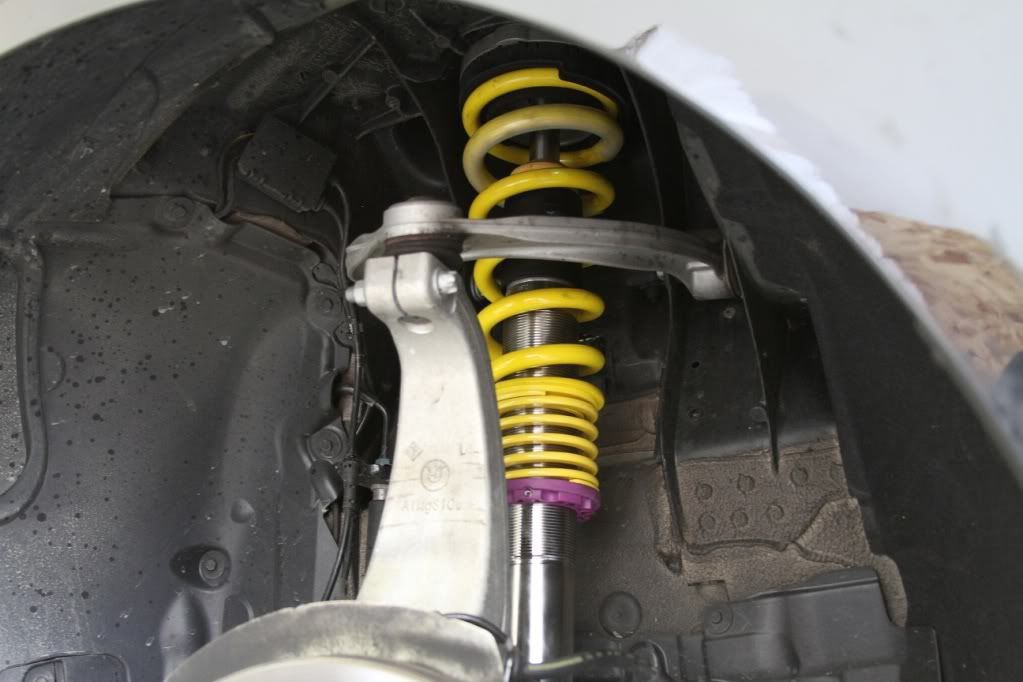 KW V3 Suspension Pictures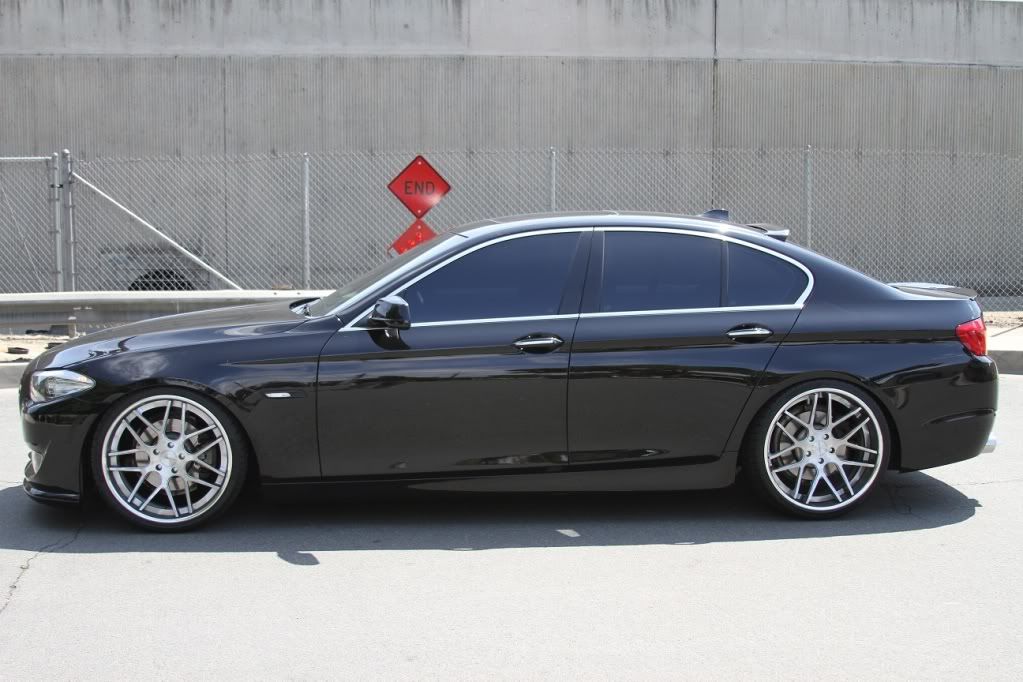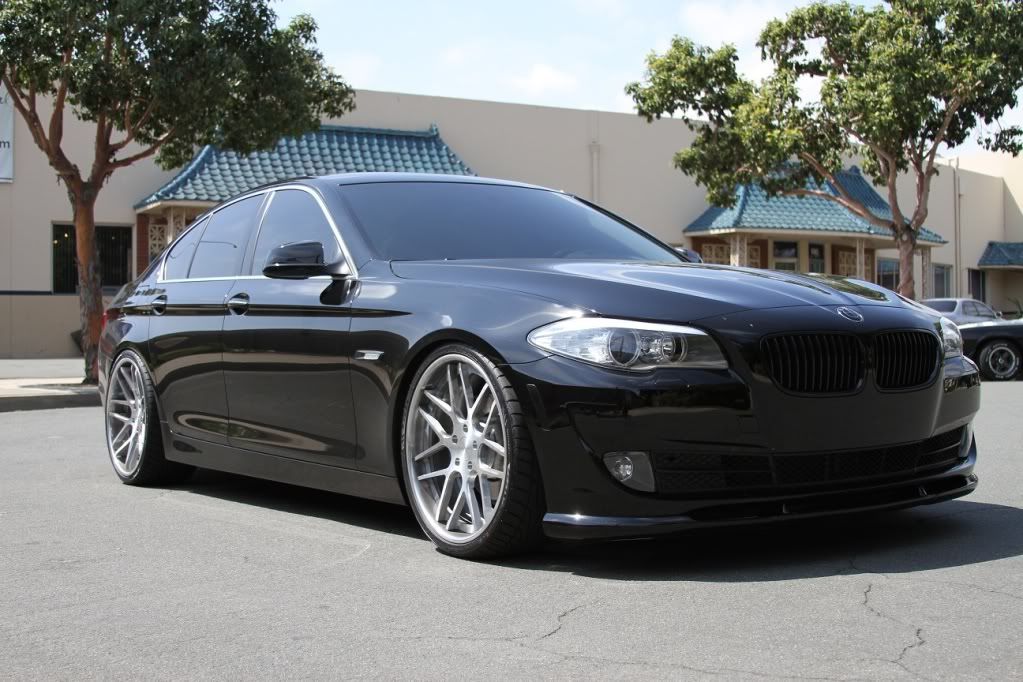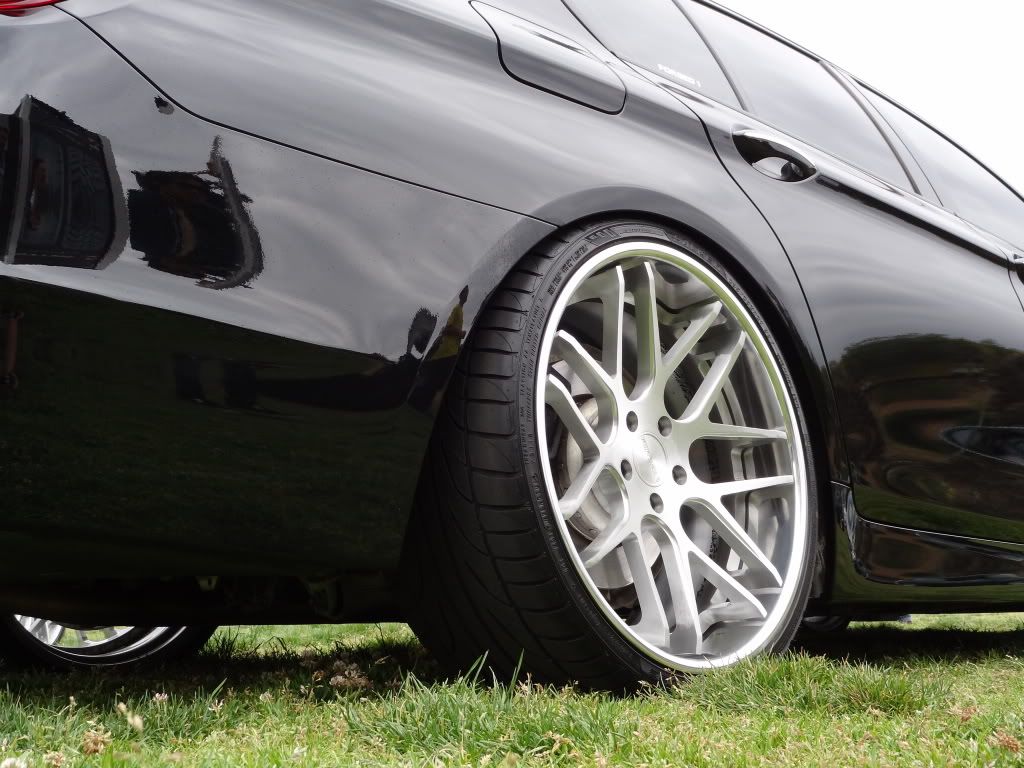 06-15-2011, 11:47 PM
---
Thanks Joe!! I'm going to need your services once again in the next week or two for the new F10 I was telling you about
Thanks for the kind words Melvin! Come on down!!! There is going to be a big meet in July "Big Socal Euro" see you there right?
They actually would do very good. You can adjust them to be nice and comfortably soft and high or you can slam it and make it as stiff as you like. As long as your tire profile isn't too low , you should be fine.