1999 E39 528it rear suspension failure
07-29-2011, 12:28 PM
New Members
Join Date: Jul 2011
Location: Seattle, Wa
Posts: 4
---
Good Afternoon!
This morning the @ss-end of my car dropped. Seems to be primarily coming from the rear passengers side, which makes me think it's the same as the other postings in this thread.
Crazy question, but I'm 20 miles from my house with no other means of transportation. Should I drive this home? The tires are not touching the frame in the wheel well.....
This is what it normally looks like (got rid of the chrome wheels that the previous owner bought!)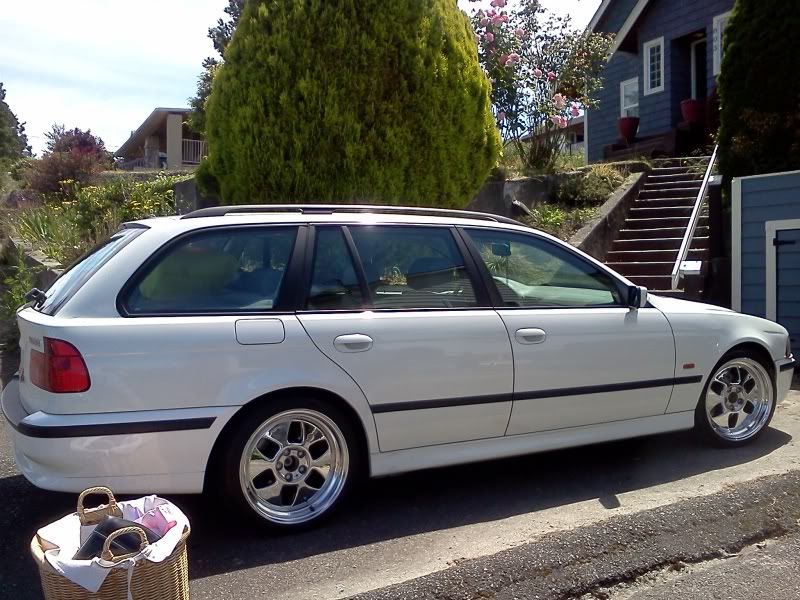 08-07-2011, 11:34 AM
New Members
Join Date: Jul 2011
Location: Seattle, Wa
Posts: 4
---
I wound up driving it home (slowly while avoiding all bumps) that day and then had AAA come get it and tow it in (on a flat bed). The mechanic called and said it was the S spring? He is awaiting the part so I'm stuck driving the 1994 525it ("Big Bessie"), she never skips a beat.
So funny that you mentioned the wheels - I am right now trying to sell them. I don't know the first thing about wheels though, grr.. any clues on how I should word that ad??
They rode rough, glad to have OEM stuff back on. Nothing wrong with them, they just felt horrible IMO with those spacers. The kid I bought the car from didn't have the center caps.
Thread
Thread Starter
Forum
Replies
Last Post
E60 Parts, Accessories and Mods
Dealer Purchasing & Service Forum