Got my surf board mounted tonight!
09-15-2009, 06:45 PM
Members
Join Date: Dec 2008
Location: Fort Lauderdale
Posts: 154
---
Well Thule/Yakima/Inno don't want to make a rack system for the 6 series because of the trim and roof line angles blah blah blah. If I worked for them I would engineer something but because I don't I had to settle for a strap based rack system from SteelCore. I tested it up to 70mph and it was solid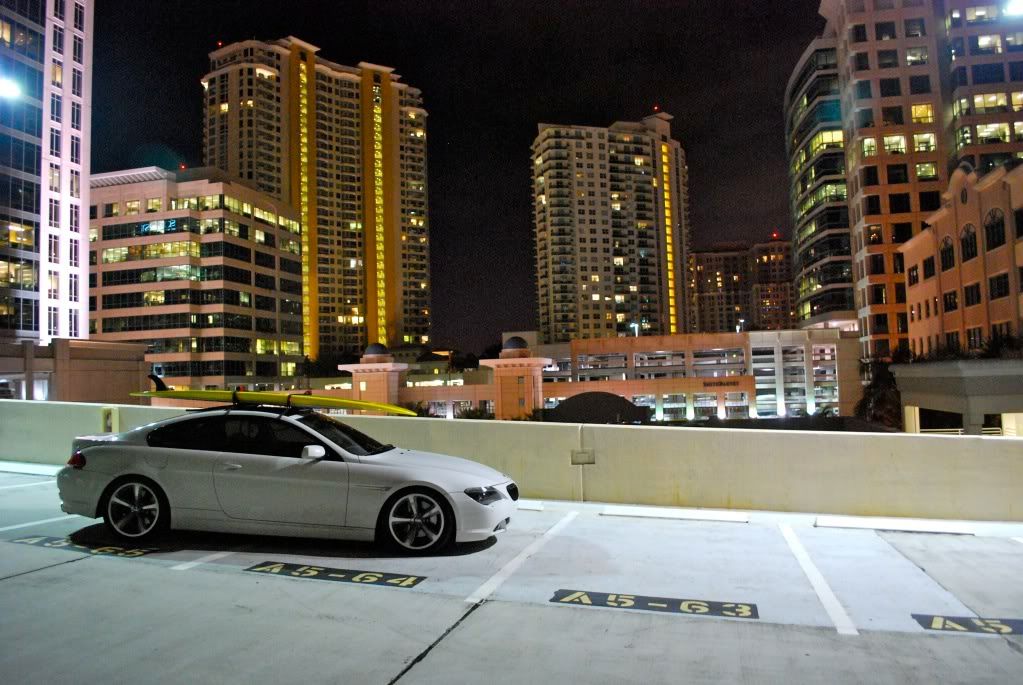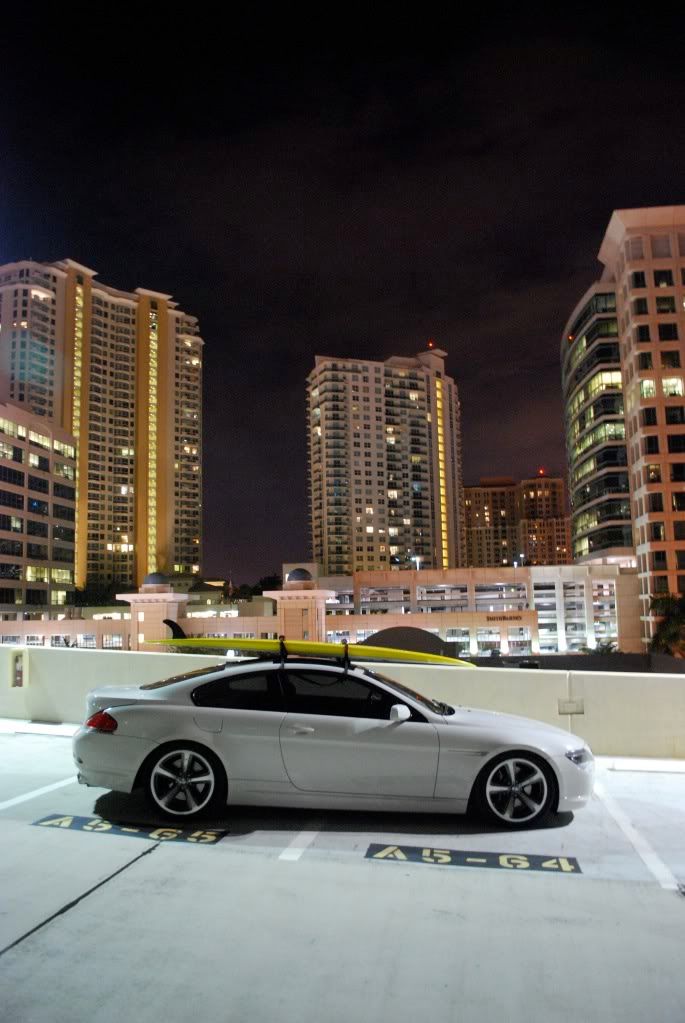 09-15-2009, 06:55 PM
Contributors
Join Date: Jun 2009
Location: South Lake Tahoe
Posts: 2,798
My Ride: cpo 06 525i (sprint booster) retired 2008 328i (sold) 04 gmc sierra (SOLD) 6.0 litre 09 dodge 2500 6.7 liter, cummins turbo Mega cab 22" HELA wheels, 8" lift (factory) 100k bumper to bumper
---
Nice brotha! Ready to rock!!
09-15-2009, 07:30 PM
Contributors
Join Date: Oct 2007
Location: Thousand Oaks, California
Posts: 11,086
My Ride: 2008 550i Jet Black on Black Leather, SAT with Paddles, Logic 7, Comfort Seats, NAV, Sport Package, PDC, Xenons, Sirius, Trinity 12W LED Angel Eyes, RPi GT Exhaust, M rear spoiler, ACS Roof Spoiler, Tinted Tail Lights, Bimmian Carbon Fiber Pillar Trim, Bimmian Shadow 550i emblem, RPi Scoop, E60 Forum Cling, Mtec bulbs in fog lights, Mtec 2W LED for License Plate Light Bulbs, K&N Filter, Bimmian LED Smoked Side Markers, Blackout roundels, Carbon Fiber Kidney Grills. Retired Rides - 1989 325i convertible, 1995 M3, 2002 X5, 2005 545i, 2008 X5 (Lemon)
---
Not your everyday Surfmobile now is it??!
09-15-2009, 07:55 PM
Members
Join Date: Dec 2008
Location: Fort Lauderdale
Posts: 154
---
Originally Posted by skeeter' post='1008794' date='Sep 15 2009, 11:36 PM
Thats a great location for your photo shoot!!! Love the pics with the background!
Yeah that view from the first pic was going to be the view from my condo. The unit in the 3rd to last pic between the two with the lights on was the one I moved into. I had to move back into my old condo across the street because my allergies were too bad. My friend who owns it had a cat there
.
09-15-2009, 07:57 PM
Contributors
Join Date: Feb 2006
Location: NY
Posts: 14,646
My Ride: 2008 Silverstone II E60 M5 2012 E70 AW X5 50i Sport w/ LCI Aero Kit and Rocker Panels
---
I must say, that my friend, looks badass! Great job. You should keep that board on there as a permanent fixture/mod. Who knows, you might start a trend! LOL!
09-15-2009, 08:20 PM
Members
Join Date: Jan 2007
Location: Studio City, CA
Posts: 175
My Ride: 2004 525i
09-16-2009, 07:10 AM
Members
Join Date: Dec 2008
Location: Fort Lauderdale
Posts: 154
---
Originally Posted by speedmeister' post='1008835' date='Sep 16 2009, 12:20 AM
Looks good. I wish I could get a Thule hard rack for the 6. I really need to get a board bag like yours to prevent dings transporting it. I live in a highrise condo and it just barely fits into the elevator. It's a 10'6" Paddle Surf Hawaii SUP board. You should see the look on peoples faces when the elevator door opens and there is no room for them because of the gigantic board!
I might cave in an pick up an 07 Tahoe/Avalanche(in white of course!) or something to haul shit in. I just really don't want to have 2 cars right now since I would need to rent a second spot since I only have 1.